Foods for the allergy population are often found from vegan recipes. The
ingredients used to make these muffins are largely allergy friendly and the
flour, egg and milk can be switched as needed. For example, the egg can be
easily replaced with apple sauce.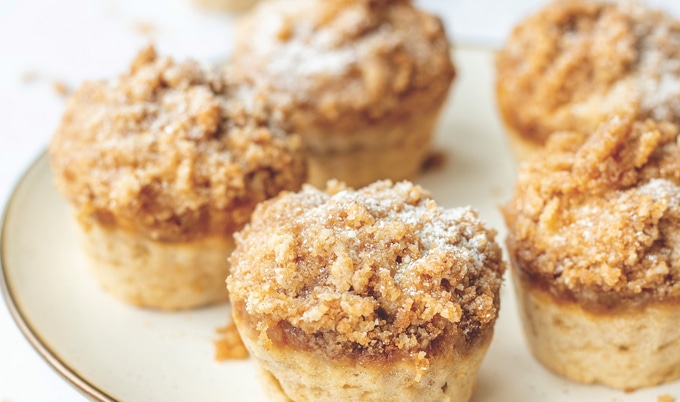 BUTTERY VEGAN CINNAMON STREUSEL MUFFINS
These simple, moist baked goods feature a brown sugar crumble topping baked into the top of buttery vanilla muffins.
by FRANCESCA BONADONNASERVES: 12PRINT
Make your weekend brunch or weekday breakfast extra special with these sweet, buttery, crumbly muffins from the Plantiful cookbook. Pair with a hot cup of coffee or tea for the ultimate comfort moment.
What you need:
For the muffins:
2½ cups flour
⅓ cup dark brown sugar
¼ cup sugar
2 teaspoons baking powder
2 teaspoons ground cinnamon
1¼ cups vegan milk
2 tablespoons vegan butter, melted
2 tablespoons unsweetened apple sauce
1 teaspoon vanilla extract
For the crumb topping:
⅓ cup plus 1 tablespoon flour
½ cup dark brown sugar
¼ cup vegan butter
2 tablespoons powdered sugar, for dusting
What you do:
Preheat oven to 375 degrees. Place 12 paper liners in a standard-size muffin pan.
For the muffins, in a large bowl, add flour, brown sugar, sugar, baking powder, and cinnamon and whisk to combine. Add milk, butter, flax eggs, and vanilla and mix until a batter has formed.
Pour batter into prepared muffin pan, dividing evenly. Fill each well about three-quarters full.
For the crumb topping, in a large bowl, add all ingredients and use back of a fork to mash into small pea-sized crumbles. Divide topping evenly among muffins.
Bake muffins for 20 minutes, or until golden and a toothpick comes out clean when inserted.
Let cool on a wire rack for 30 minutes and then sift powdered sugar over top. Enjoy warm.
Photo credit: Francesca Bonadonna
Love vegan food and cooking as much as we do?
Get the BEST, editor-tested recipes inside every issue of VegNews Magazine. Find out why VegNews is the world's #1 plant-based magazine by subscribing today!
GET THEMAGAZINE
All-things vegan,
in your mailbox and inbox
ONLY $25SUBSCRIBE
GET THENEWSLETTERS
Never miss out on exclusive stories, recipes, and giveaways VEGNEWSLETTER VEGNEWS RECIPE CLUB HEALTHY VEGAN FABULOUS VEGAN