At the upcoming Annual AAAAI (American Academy of Allergy Asthma and
Immunology) the latest developments and trials underway with Intranasal
Epinephrine will be discussed.
This method is by far easier, more compact and most importantly a faster
reaction when an anaphylaxis reaction occurs.

Emerging TechnologyNews Coverage
Intranasal Epinephrine to Take Center Stage at 2022 AAAAI Annual Meeting
One thing we know for sure is that epinephrine is often not administered soon enough — if at all — during an anaphylactic reaction, resulting in significantly poorer outcomes than if it was administered as soon as anaphylaxis is suspected.
One reason may be that epinephrine is considered a last resort because it requires a visit to the hospital after administration. But the administration of epinephrine itself is not the reason for the requisite visit to the ER; it's to ensure the life-threatening reaction has passed and to watch for subsequent biphasic reactions which can occur hours after the first reaction.
Another reason is "fear of the jab" because epinephrine today is administered intramuscularly via the outer thigh. All current emergency epinephrine devices use a needle to inject the drug into the muscle where it will be readily utilized by the body.Click to visit sponsor
But that may change as intranasal epinephrine, i.e. epinephrine that is sprayed in the nose instead of injected, makes its way through clinical trials.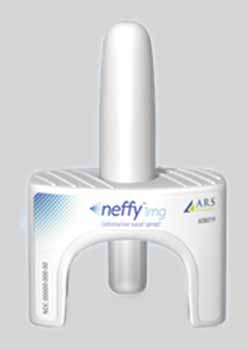 Today, ARS Pharmaceuticals announced they will be sharing data from clinical trials of their neffy branded intranasal emergency epinephrine device in four separate presentations at this year's American Academy of Allergy, Asthma & Immunology (AAAAI) Annual Meeting to begin February 25 in Phoenix, AZ:
neffy Human Factor Findings
Comparison of Pharmacokinetic Parameters and Intra-Blood Vessel Injection Rates Between Manual IM injection and Epinephrine Auto-Injectors
Pharmacokinetics and Pharmacodynamics of neffy (1 mg) compared to EpiPen (0.3 mg) and Manual IM injection (0.3 mg) – an Integrated Analysis
Accidental Intravascular Auto-Injection of Epinephrine (Adrenaline) Rapidly Increases Pharmacokinetic and Hemodynamic Parameters
Click to visit sponsor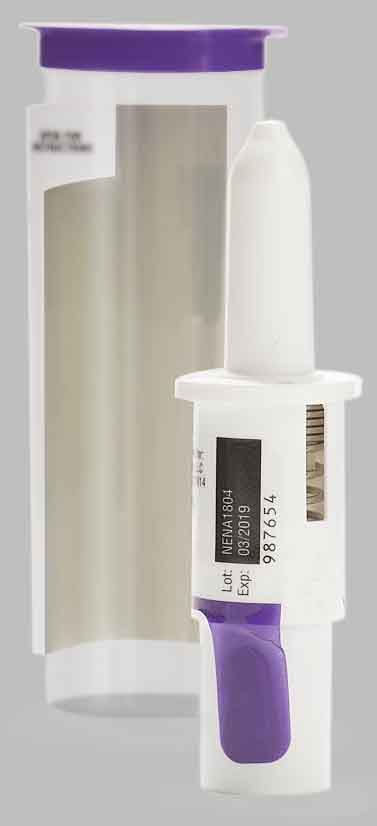 Bryn Pharma, also developing an intranasal emergency epinephrine spray known as BRYN-NDS1C, will likewise be presenting at the meeting:
Subanalysis of an Open-Label, Crossover Study to Assess the Relative Bioavailability of Selfadministered Nasal Epinephrine Compared to Administration by Trained Health Personnel in Healthy Adult Subjects
The goal for both companies is to show that intranasal epinephrine is as quick-acting and effective as intramuscular epinephrine while being as safe to use. Preliminary data from ongoing clinical studies are promising.Click to visit sponsor
SnackSafely.com will be covering the AAAAI annual meeting including the presentations mentioned above. Be sure to sign up for our weekly newsletter to make sure you never miss an important article:Subscribe to our weekly newsletter and never miss an important food allergy article! Unsubscribe at any time. We pledge never to share your address.
Sources: