Wow! Had a look at this and the recipe from LOVEFROMTHEOVEN sealed it
with just 4 allergy friendly ingredients!!
That's it! Trust me on this. Oh and the best part? You mix and bake blueberry dump cake all in the same pan.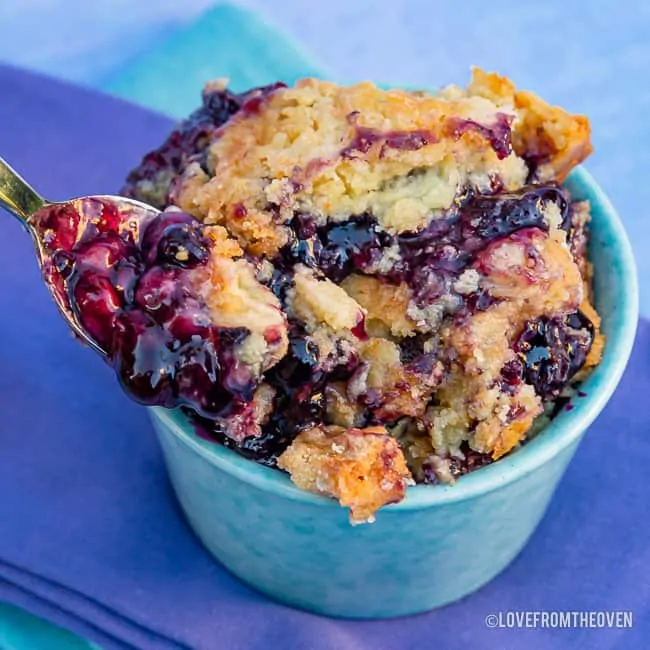 Recipe
Ingredients
1 box cake mix white or yellow
3/4 cup unsalted butter
2 21 oz cans blueberry pie filling
2 cups fresh blueberries
Instructions
Preheat oven to 350 F and lightly grease a 9 x 13 inch baking pan.
Dump both cans of pie filling into the pan and spread it evenly so that no part of the bottom of the pan is visible. Use a spoon or measuring cup to dust the pie filling with the cake mix, covering it evenly.
Add the butter in pats to cover the cake mix, then sprinkle in the fresh blueberries.
Bake for 45 minutes, or until the top looks golden brown. Serve warm on its own or with a scoop of vanilla ice cream. Enjoy!
Notes
If you can't find 21 oz cans of blueberry pie filling, feel free to use ones that contain slightly more or less. This recipe is flexible!
Nutrition
Calories: 207kcal | Carbohydrates: 29g | Protein: 2g | Fat: 10g | Saturated Fat: 6g | Cholesterol: 23mg | Sodium: 225mg | Potassium: 37mg | Fiber: 1g | Sugar: 15g | Vitamin A: 276IU | Vitamin C: 2mg | Calcium: 74mg | Iron: 1mg
See? Easy peasy and only one dish to wash!
I love to serve this while still warm. There's nothing more satisfying than when your cake gets your ice cream just a bit melty! This blueberry dump cake is also a home run served with a dollop of whipped cream.