Can't wait to try these fruit muffins and oh, did I mention chocolate too! I
will try these out, but will ditch the egg with apple sauce! Thanks to Anna:
Just A Mom for this recipe!!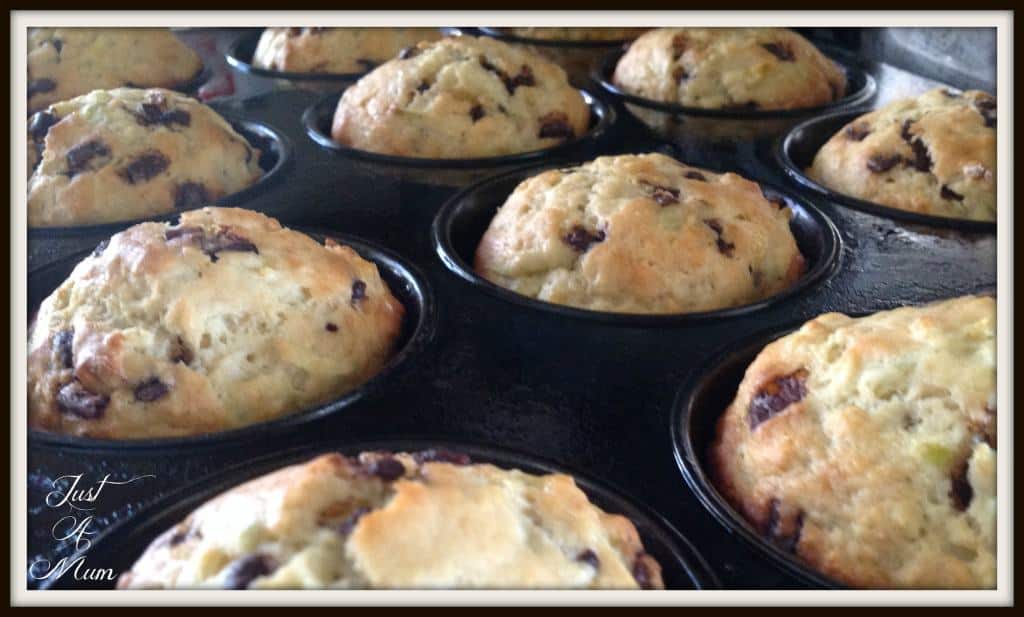 You can easily keep out the chocolate chips if you prefer, the flavour of the muffins is still lovely. Check out the recipe below!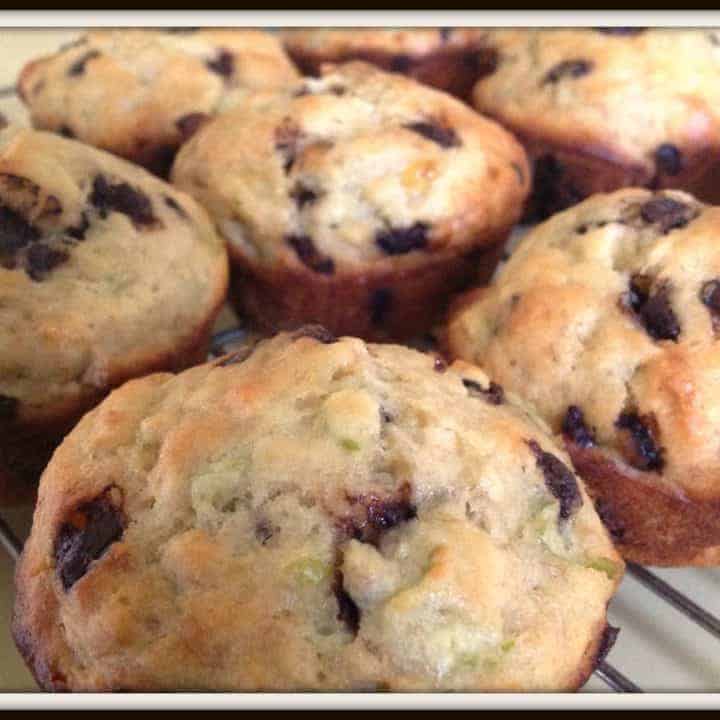 ABC Muffins
yield: 12prep time: 15 MINUTEScook time: 12 MINUTEStotal time: 27 MINUTES4.7 Stars (27 Reviews)PRINT
Ingredients
1 Cup (2-3) Mashed Ripe Bananas
1/2 Cup Brown Sugar, 100 grams
1/4 tsp Salt
1/4 Cup Canola Oil, 62mls
1 tbsp. apple sauce
1/2 Cup Milk, 125 mls
1/4 to 1/2 Cup Chocolate Chips, 45 to 90 grams
1 Apple grated or finely chopped (I used granny smith – use Tangy apples for best flavor)
2 Cups Self-Raising Flour, 270 grams
Instructions
Preheat Oven to 210CPlace oven rack just below middle of ovenPrepare muffin trays with cooking spray or cupcake casesMash the bananas well and grate the apple (including skin) and set asideIn a large bowl mix together the mashed banana, sugar, salt, oil, egg and milk until well combinedStir in the chocolate chips and grated apple and mix wellStir the flour before measuring (to lighten it) Spoon the flour into the cup without packing it or banging it down.Sprinkle the flour over the top of the other ingredients then gently fold it in without overmixing, stopping when their are no streaks or pockets of flour visibleSpoon the mixture into prepare muffin trays to 3/4 fullBake for 10-14 minutes until golden brown and the tops spring back when gently touchedLeave to stand for 2-3 minutes in their pansRemove carefully and cool on a wire rack.Store in an airtight container – muffins can be frozen once cooled.
Did you make this recipe?
Please leave a comment down below, rate this recipe or share a photo on Facebook!© Just a Mum