Thanks to Snack Safely for providing an updated snack guide for the food
allergy population.
The new guide below will provide snack ideas to make delicious and safe
choices for those with food allergies. The new items are featured in this
post. The guide can be found at snacksafely.com Enjoy your safe snacks!

HomeAllergenceDownload the Latest Safe Snack Guide with New Products from New PartnersAllergenceAllergy-Friendly ProductsNew Product AnnouncementsProduct SafetySafe Snack Guide
Latest Safe Snack Guide with New Products from New Partners
By Dave Bloom, Snack Safely
We've added many new product options to all editions of the Safe Snack Guide, our catalog of over 2500 allergy-friendly products from 150+ responsible manufacturers!
We say "editions" because the Safe Snack Guide is a family of guides to serve those with a variety of dietary restrictions including Peanut & Tree Nut Free, Milk (Dairy) Free, Sesame Free, and Gluten Free guides to help you find products that meet your family's specific allergen restrictions. (And if your family is juggling a number of allergen restrictions, tailor your own Custom guide to meet any combination of 11 allergens.) Links to each are below.Click to visit sponsor
Each guide is interactive: click any entry to see precisely how that product is manufactured with respect to the 11 allergens we track (peanuts, tree nuts, milk, eggs, soy, wheat, fish, crustacean shellfish, sesame, mustard, and gluten) — including shared line/facility information you won't find on the label or anywhere else — as well as links to the product's store finder, website, and Amazon page.
In addition to many new products from members of our Manufacturer Partnership, we welcome products from five new partner manufacturers:
Cooper Street Cookies — Using only simple and pure local ingredients and with love and attention to every detail, Cooper Street bakes and slices and bakes again to create a delightfully crisp and light cookie that has become an instant smash. All varieties of cookies and bakes are made in a peanut, tree nut, sesame and mustard-free facility.
---
Lovely Day Bars — The perfect snack, balancing great taste while being peanut-free, gluten-free, dairy-free, egg-free, soy-free, mustard-free, non-GMO, low in the not-so-good stuff of saturated fats and cholesterol but high in fiber and a good source of protein!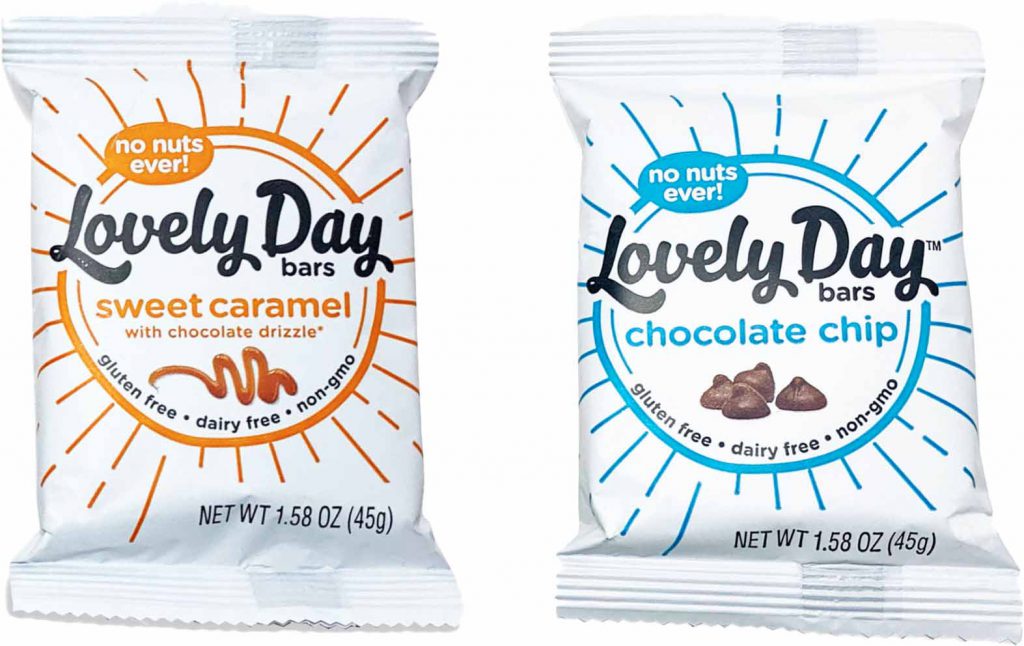 ---
Yum Actually — They make nutrient-dense ice cream snacks for kids. The main ingredient in all of their flavors is a fruit or vegetable and the ice cream itself is lower in sugar than other leading brands. All varieties are gluten-free and sesame-free!
---
Sweet Poppins — Offering traditional favorites, signature flavors and seasonal specialties, they start each morning with fresh popcorn and a smile! All their varieties are made in a facility free of peanuts, tree nuts, eggs, wheat, sesame, mustard, and gluten.
---
Honestly Cranberry — Cranberry growers by trade with a farm that has been producing cranberries since 1873, the company produces dried cranberries without adding anything before, during, or after their drying process. Free of the Top 8, sesame, mustard, and gluten.
---
Click to visit sponsor
---
Please discard your current guide and select your edition below to download the latest: