What if you could test food for allergens, specifically the major
allergens (peanut, egg, seafood, milk)? Amulet may give you the
ability to do just that!
The device is compact and can fit on a keychain. Allergen foods
testing is being expanded by the company. Pre-orders for
Allergy Amulet are being taken for the fall of 2021.

SnackSafely.comH
Allergy Amulet, the Innovative Allergen Detector, Takes Another Step Closer to Launch
By Dave Bloom -2020/08/14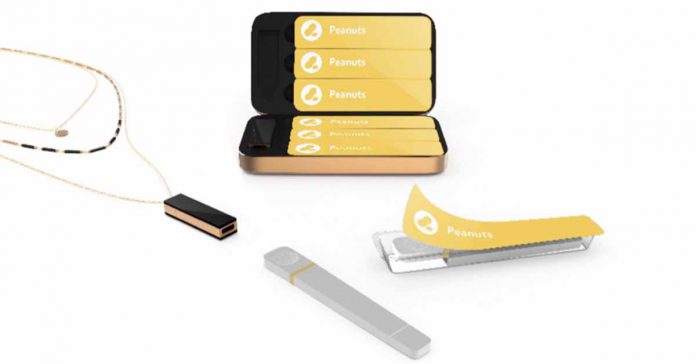 Allergy Amulet, the company developing a novel new allergen detector, announced they raised $3.3 million in seed funding to help prepare the sensor for launch.
The device is small enough to fit on a keychain and according to CEO Abigail Barnes, is capable of testing for the presence of common food allergens in seconds.
See how Allergy Amulet works in this video:
Click to visit sponsor
Said Barnes to Crunchbase News:
Over the past few decades, there has been a surge in the number of children born with food allergies and growing into adults with food allergies. Food allergies are life-threatening, so the action of eating food alone is Russian roulette. A simple test of the food can significantly improve life for people.
Barnes said the funding will be used to manufacture beta units, help with product pre-orders, expand product offerings to cover more allergens, grow its team of eight, add additional restaurant and company partners to its roster, and educate consumers on the benefits of additional food allergen management tools.
"Our focus is on the 32 million Americans and between 220 million and 520 million people globally, including children, that have food allergies," Barnes added. "We have also seen interest from restaurants and businesses on how to be better hosts to their patrons with these allergies."
The company anticipates taking pre-orders in the fall of 2021.Sources: