Looking for an eg-free gingerbread cookie – how about thick and chewy
too!! The recipe below has all of that including decorating ideas!! Mel's
Kitchen Cafe has provided this and can be used by the allergy population!

THICK AND CHEWY GINGERBREAD COOKIES
JUMP TO RECIPE DECEMBER 2, 2009 167 COMMENTS »
These thick and chewy cutout gingerbread cookies have an intense gingerbread flavor with a delicious and surprising soft chewiness.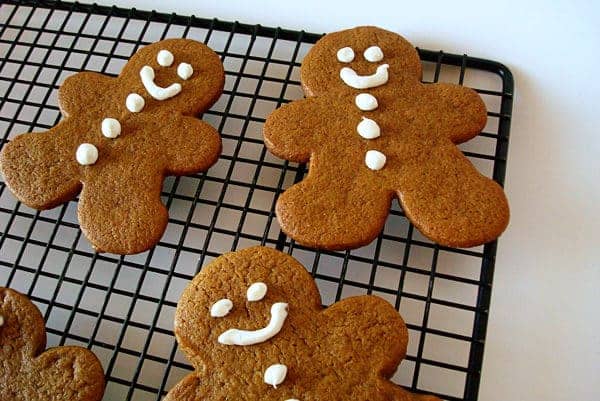 Gingerbread is a classic Christmas flavor. I love it. But I have to admit I'm not a huge fan of thin and crispy gingerbread cookies. I've always wanted a gingerbread cookie similar in texture to a really good sugar cookie.
This recipe fits the bill.
These cookies are packed with gingerbread flavor but the texture has a delicious and surprising softness and chewiness that keeps me going back for just one more gingerbread man.
The dough requires chilling and freezing in order for the cookies to keep their shape, but the time invested is well worth it. And as a sidenote, the cookies are egg-free in case that happens to be an allergy you are working around.
These cookies are such a favorite, we make them every holiday season. One taste, and I think you'll know why.
As with all cutout cookies like this, you can get as fancy as you like decorating the cute little shapes.
You can see I leave the decorations pretty simple (that might have something to do with the fact that I'm usually juggling a child or three while making and decorating).
And you don't have to feel pressured into only using a gingerbread person cookie cutter, either! Obviously, you can use whatever shape of cookie cutter your little heart desires.
As I mentioned above, because the texture of the dough is a little different than other cutout gingerbread cookies, it's important to chill the dough per the recipe so the cookies don't spread or flatten.
One last note, the baked and cooled cookies freeze great! I stack them in large tupperware-like containers with sheets of parchment or wax paper inbetween the layers.
FAQS FOR THICK AND CHEWY GINGERBREAD COOKIES
DO YOU USE SALTED OR UNSALTED BUTTER FOR THESE?
I always use salted butter!WILL THESE KEEP IF I MAKE THEM AHEAD OF TIME?
They will keep the best if you freeze them.WHAT FROSTING DO YOU USE FOR THESE?
I usually use the royal icing recipe from the meringue powder can or this simple vanilla frosting.
https://www.melskitchencafe.com/perfect-vanilla-buttercream-frosting/IS IT NORMAL FOR MY COOKIES TO BE REALLY SOFT?
Yes! These cookies are meant to be soft and chewy, not crisp like a traditional gingerbread cutout cookie.WHAT KIND OF MOLASSES DO YOU USE? CAN I USE BLACKSTRAP?
I usually use plain old unsulphured molasses. Blackstrap molasses usually has a darker appearance and a stronger flavor.
THICK AND CHEWY GINGERBREAD COOKIES
YIELD: ABOUT 2 DOZEN GINGERBREAD MEN PREP TIME: 25 MINUTES COOK TIME: 9 MINUTES TOTAL TIME: 34 MINUTESPRINT SAVE TO PREPEARWhat is Prepear?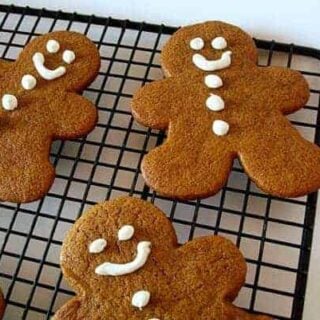 4.5 Stars (301 Reviews)
INGREDIENTS
3 cups (15 ounces) flour
¾ cup packed (5 ¼ ounces) dark brown sugar
¾ teaspoon baking soda
1 tablespoon ground cinnamon
1 tablespoon ground ginger
½ teaspoon ground cloves
½ teaspoon salt
12 tablespoons butter softened to room temperature (but not warm), cut into 12 pieces
¾ cup light or dark molasses
2 tablespoons milk
INSTRUCTIONS
With an electric mixer, stir together the flour, brown sugar, soda, cinnamon, ginger, cloves and salt at low speed until combined, about 30 seconds. Stop the mixer and add the butter pieces. Mix at medium-low speed until the mixture is sandy and resembles fine meal, 1 to 2 minutes. Reduce the speed to low and with the mixer running, gradually add the molasses and milk; mix until the dough is evenly moistened about 20 seconds. Increase the speed to medium and mix until thoroughly combined, about 10 seconds.
Scrape the dough onto a work surface and divide it in half. Working with one portion at a time, roll the dough ¼ inch thick between 2 large sheets of parchment or wax paper. Leaving the dough sandwiched between the parchment or wax paper, stack the dough on a baking sheet and freeze until firm, 15 to 20 minutes. (Alternatively, refrigerate the dough for 2 hours or overnight.)
Preheat the oven to 350 degrees. Line 2 baking sheets with parchment paper or silpat liners.
Remove one dough sheet from the freezer and place on the counter. Peel off the top parchment or wax paper sheet. Gently cut the dough into 5-inch gingerbread people or 3-inch gingerbread cookies, transferring the shapes to the prepared baking sheets with a wide metal spatula and spacing them ¾ inch apart. Set the scraps aside. Repeat with the remaining dough until the baking sheets are full. Because flour is not added during rolling, dough scraps can be rolled and cut as many times as necessary.
Bake the cookies until set in the centers and the dough barely retains and imprint when touched very gently with fingertip, 8 to 9 minutes. Do not overbake!! Cool the cookies on the sheets 2 minutes, then remove the cookies with a wide metal spatula to a wire rack; cool to room temperature. Gather the scraps; repeat the rolling, cutting and baking. Frost as desired (I used a ziploc bag filled with simple white icing).
Store soft gingerbread in a wide, shallow airtight container or tin with a sheet of parchment paper between the cookie layers. These cookies are best eaten within one week.