Nick Polozzi's blog offers three delicious and healthy recipes to keep us
nourished. Each of these recipes can be made allergy friendly by simple and
safe replacements. I like to replace nuts with raisons, currents and seeds.
Dairy substitutes of coconut or almond milk are offered, while soya milk
is another choice.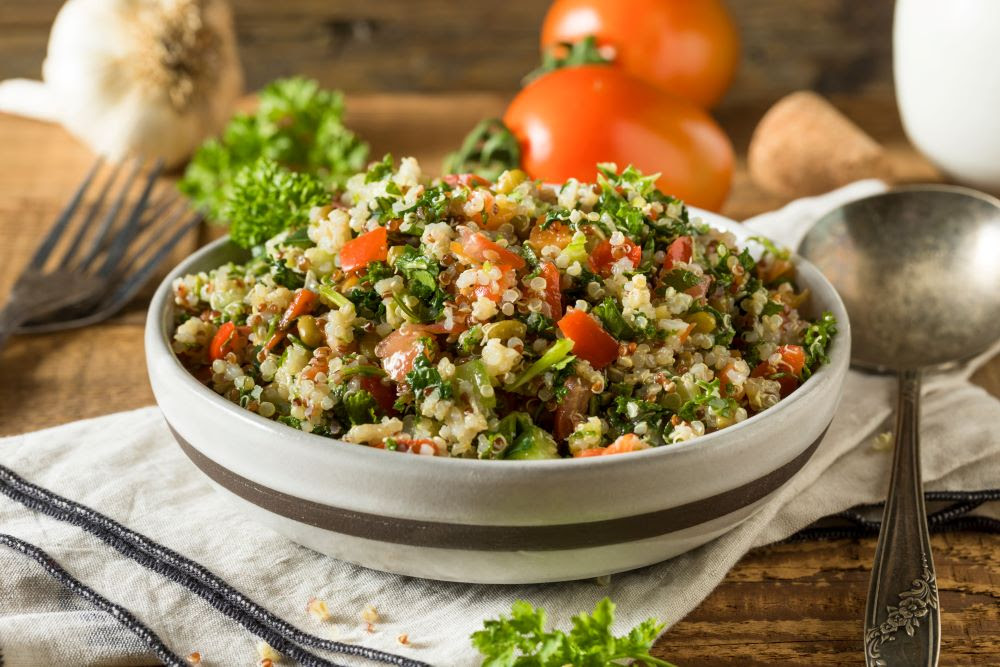 As the summer settles in up here in the northern hemisphere, a lot of us are hankering for mouth-watering meals and the nourishing presence of friends and family.
There's just something about gathering (socially-distanced right now, of course!) with loved ones over a plethora of food – sharing laughter, merriment, and one another's company – that warms the soul.
Today I want to share 3 super nutritious meals that are delicious, and guaranteed to crowd-please.
Because we're all so unique, we humans enjoy a variety of food plans. We crafted the 3 recipes below so that there's something for just about everyone.
#1 Superfood Salad
Whether you're a seasoned vegan-veteran or considering the vegan/vegetarian diet for the first time, it's important to ensure that you are getting the right amount of protein and nutrients into your body. According to the Dietary Reference Intake, you may need up to 0.8 grams of protein per day for every kilogram you weigh, depending on age and other factors.
It's easy to get confused about where to find complete nutrition if you're cutting out meats and dairy products. But this delish recipe provides all the protein you need from superfood, plant-based ingredients.
Ingredients
1 sweet potato
1 tablespoon of your preferred oil for frying
Salt – to taste
¾ cup uncooked quinoa, washed
½ cup goji berries
½ cup pepitas (raw pumpkin seeds)
1 cup fresh veggies of choice (mushrooms, tomatoes, broccoli, carrots are all good choices)
1 cup of arugula
1 cup of baby kale
2-4 radishes, finely sliced
A handful or two of assorted nuts (pecans or walnuts work great)
Salad dressing
3 tbsp almond butter
1 tbsp soy-free tamari or soy sauce substitute
½ tsp honey or maple syrup
½ tsp apple cider vinegar or squeezed lemon juice
1-2 garlic cloves thinly sliced
1 tbsp of grated ginger
Instructions
Preheat oven to 450°F degrees
Toss sweet potatoes in the olive oil and add salt if you wish
Bake until softened (about 30-45 minutes). When done, remove from pan to cool.
In a small saucepan, add the washed quinoa with 1.5 cups of water. Bring to a boil, cover, and reduce to a simmer until all water is cooked out and quinoa is fluffy
Mix together dressing ingredients in a small bowl
Toss the veggies, leafy greens, berries and seeds & nuts together in a large bowl – add the dressing
Add sweet potato and quinoa to the bowl and mix all ingredients
Enjoy!
#2 Salmon Bowl
For the carnivores in the house, we have to make sure we're consuming healthy and consciously-sourced meat. Salmon contains vital nutrients such as B vitamins that increase energy, reduce inflammation, and literally build brain cells.
It's important to match the nutritious omega 3 fatty acids in the salmon with a good source of carbohydrates, so that they can work together to provide you with the energy you need now and give your body the ability to store the rest for later. That's why I add plenty of veggies and good grains to any dish with an animal-based protein.
This salmon bowl recipe checks all the boxes!
(If you're on a Keto or other low-carb diet, this is an easy one to adjust to your specific needs!)
Ingredients
1-2 cups of chopped sweet potato
1 salmon fillet
10-12 Brussels sprouts, chopped in half
1-2 cups of leafy greens (kale, spinach, arugula — a mix is best)
3 tbsp olive oil
1 tsp of turmeric
½ tsp of pepper
1 tsp of garlic powder
1 tsp of Italian seasoning
Sea salt to taste
Salmon marinade
Juice of 1 lemon
1-3 tbsp of balsamic vinegar
1 tsp of honey
Instructions
Preheat oven to 450°F degrees
On a tray, toss sweet potatoes in 1 tablespoon of the olive oil and add salt if you wish
Bake until softened (about 30-45 minutes). When done, remove from pan to cool.
Turn oven down to 350°F
Toss Brussels sprouts with seasonings, 1 tablespoon olive oil, and sea salt
Roast until softened, about 20 mins
Marinate salmon for 10 minutes while veggies bake
Add salmon to baking tray and finish roasting for the 10 remaining minutes (adjust cooking time to ensure salmon is thoroughly cooked)
Flip Brussels sprouts halfway through roasting to get an even roast
Saute kale (or leafy greens) in remaining olive oil for about 5 minutes
Place greens in a serving bowl followed by sweet potato, Brussels sprouts then salmon
Dress in lemon juice
Serve and enjoy
#3 Gut-Healing Smoothie
I realize that we talk a lot about gut health, but it can't be overstated. The condition of your microbiome has a clear and powerful connection to your energy levels, sleep patterns, immune system, and mental health– according to Harvard and many others.
So as the days get hotter and longer, why not add a tasty treat to your midday routine? This smoothie is packed with gut-healing ingredients that taste as good as they are good for you!
Ingredients
1 1/2 cup full-fat coconut milk or almond milk
2 cups leafy greens (kale/spinach)
1 avocado
1 banana
1 tsp freshly grated ginger
1/2 tbsp chia seeds
1 tbsp hemp hearts
1 tbsp raw honey
1 tbsp magnesium
1 tbsp collagen
Instructions:
Blend until smooth
Enjoy asap or save for 1 day if refrigerated
I hope these recipes serve you well. There's no good reason not to have amazing summer (or winter!) meals that are incredibly nutritious.
Nick Polozzi